Prioritising mental health and wellbeing at IQUW Group
17 May 2023 by Jonathan Watson
It's Mental Health Awareness Week (15 - 21 May 2023) and a timely reminder of just how crucial mental wellbeing is in our everyday lives. With the fast pace of modern life, it's all too easy to neglect our mental health, leading to increased stress, anxiety and even burnout.

The workplace is an especially important aspect of our emotional wellbeing, considering the significant amount of time we spend there. A supportive and inclusive work environment can have a tremendous positive impact on employee wellbeing, resulting in increased productivity, job satisfaction, and overall happiness.
Here at IQUW Group, we know the importance of mental wellbeing and are fully committed to supporting the mental health of our employees through various initiatives. In light of it being Mental Health Awareness week, we want to showcase these efforts and highlight our ongoing commitment to fostering a work environment that values open communication, mental health support, and personal growth.
Proud to be partnered with SANE
Our charity partner is SANE, a leading UK mental health charity, focused on improving quality of life for anyone affected by mental illness. Our partnership allows us to raise awareness and understanding of all mental health conditions, combat the stigma surrounding mental illness and provide support, information, and guidance. In order to support our chosen charities and local communities, we host a number of fundraising activities and provide the opportunity for colleagues to attend volunteering days, many of which involve spending time outside and interacting with colleagues and the community, supporting our mental wellbeing.
Work-life balance: embracing flexibility and empowering autonomy
One of the key aspects of maintaining mental wellbeing is striking the right balance between work and personal life. It's important to have time to recharge, relax and switch off from work, allowing ourselves to fully enjoy our personal lives and the activities that bring us joy.
We support a healthy work-life balance by offering flexible working arrangements, including a hybrid work model where employees can spend three days in the office and two days working from home. This flexibility, combined with our culture of trust, empowers our employees to manage their time effectively, balance personal and professional commitments and ultimately support both wellbeing and job satisfaction.
"Embracing the hybrid work model has been a game-changer for me. Having the option to work from home for two days a week has made it so much easier to juggle my personal and professional life. I find that I'm more focused and productive during my office days, and I appreciate the extra time I get to spend with my family and pursue my hobbies on my work-from-home days," Dan John, Operations Manager.
A new office designed with employee wellness at its heart
Our new premises in Fenchurch Street, London, has been carefully designed to incorporate elements that contribute to a healthy work environment, including an abundance of natural light, a variety of plants, and a thoughtful colour scheme. These features, along with different types of desk spaces and meeting areas, help create a welcoming atmosphere that allows for individuals' needs, as well as collaboration and inclusive working practices.
"Our new office is a place where people want to come and work. The design considers employees' needs and fosters a positive environment. The plants and natural light make a huge difference to my stress levels and overall mood, together with lots of space to collaborate and work together" Bhupinder Singh, IT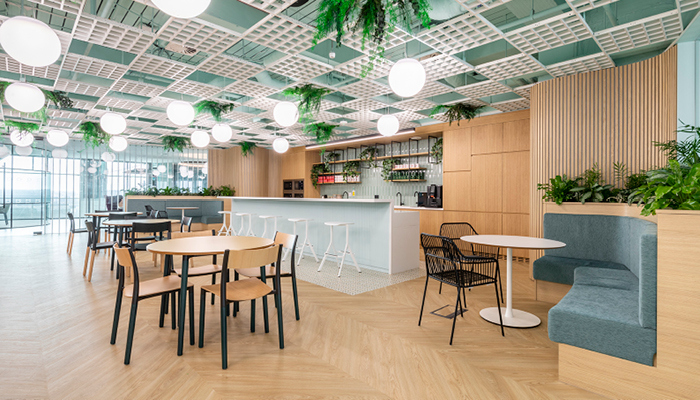 We've also created a purpose-built Wellbeing Room in both London and Swansea, that offers a quiet space for staff to unwind and recharge. The room is equipped with facilities for yoga, prayer, and breast milk expression, making it a valuable asset for many of our employees.
Mental health first aiders: supporting our team in Swansea and London
We're also pleased to report that we've appointed 10 Mental Health First Aiders across our Swansea and London offices to provide guidance and support to our employees. These trained individuals are equipped to help colleagues navigate mental health challenges and promote a culture of understanding and empathy.
In addition to being a valuable resource for employees experiencing mental health issues, our Mental Health First Aiders also contribute to fostering a work environment where discussing mental health is encouraged and normalised. Our employees can find information on our mental health first aiders on our intranet.
"Having Mental Health First Aiders within the company is great. They've created an atmosphere of trust, where we can openly discuss our challenges and get the support we need." Emma Philips, Claims
Strengthening our own initiatives with strategic partnerships
This year, we established a partnership with Everymind at Work, an organisation dedicated to mental health support and education for companies in the UK. This collaboration has led to a range of informative webinars and other resources that empower our employees to take care of their mental wellbeing and better understand the challenges they and their colleagues might face.
We recently benefitted from sessions on 'Living with anxiety' and 'Imposter Syndrome', a phenomenon that affects many people, causing them to doubt their abilities and accomplishments. The invaluable session covered coping strategies, such as recognising unhelpful thought patterns, seeking support from trusted peers and focusing on strengths and achievements.
"The Everymind session on Imposter Syndrome was incredibly informative. It gave me a better understanding of the issue and provided practical tactics for managing stress and supporting my team members. I feel more confident and equipped to tackle this challenge." Daisy Thompson, Senior Underwriter IQUW
Fostering a vibrant and inclusive culture
We believe that a keen sense of community contributes to mental wellbeing. Our sports, social, and charity committees organise activities such as football and netball teams, and we're looking forward to establishing a running club soon. These initiatives foster camaraderie and encourage employees to support one another.
Inclusivity is a huge consideration for us, and we aim to offer as many activities as we can which are tailored to our employees' abilities and interests. We're always on the lookout for new suggestions, too, and welcome input from colleagues across the entire company.
"Being part of the netball team has not only helped me stay active but also allowed me to connect with colleagues in a fun and engaging way. It's been great for my mental health," Michelle Ray, Executive Assistant
Why choose IQUW Group?
At IQUW Group, we take pride in being a mental health aware company which actively supports employee wellbeing. Our commitment to mental health makes IQUW Group an excellent place to work, and we're proud to showcase this to potential recruits and customers.
Our commitment to mental health awareness is not just reflected in these individual initiatives but also in the very culture we cultivate at IQUW Group. We strive to create an open and collaborative work environment where employees feel supported, heard, and valued. By promoting a holistic approach to wellbeing, we encourage our team members to identify with and promote the company's mission, fostering a sense of pride, purpose, and belonging.
Need more information, or interested in joining IQUW? Click here.